The best day, time and month to recruit volunteers
Suppose you have written the perfect volunteer vacancy. So what's the next step? When is the best day and time to put it on our platform to ensure maximum reach? It would be a shame if you don't post the request for help when volunteers are looking!
Every day thousands of people are looking for something that suits them on our matching platform NLvoorelkaar. But when they do that varies from day to day and month to month. Maybe you have a gut feeling when most volunteers are looking for a new job: at the weekend, during the holidays or in the autumn? A tip of the veil: one of these statements is true and the others are not…
In this blog you can read how you can make a data-based decision about when is the best time to put your volunteer job vacancy online. To do this, we analyzed the search traffic and connections that volunteers make on our matching platform. Of course there is no magic hour to recruit volunteers. But the analysis presented can help you better understand the volunteers who search through our platform. And that can help you with that little bit of extra reach.
Following the American research that inspired this blog, we have listed three interesting insights:
The best time
the best day
The best month
The best time: 10am - 12pm
Perhaps surprisingly, it turns out that volunteers log in mainly during office hours: between 09:00 and 15:00, 50% of the volunteers log in. The website visit also shows, not unexpectedly, the same pattern. Around 11 am we see a peak in website visitors as well as logging in volunteers, this is the 'rush' time. It is striking that we also see a small peak in website visits between 8 p.m. and 10 p.m., but that this peak does not result in volunteer activity (logging in).
On NLvoorelkaar there are 26,000+ questions for help online. These help questions are sorted by date by default. But please note: it is not the date on which the vacancy was posted, it is the date on which the questioner last logged in. This way we 'know' that a vacancy is still current – because nothing is more annoying for a volunteer when a volunteer vacancy has already been filled!
In addition, the volunteer can of course apply search criteria himself: place, interest, how often, etc. But even then, the list of vacancies is often long and it is therefore beneficial to be at the top. Therefore, make sure that you have your volunteer vacancy online around 10.00 (or if it is already online: that you have logged in), so that the largest group of volunteers sees your vacancy.
Reasoned the other way around: it is better not to post your volunteer vacancy after 3 p.m. and certainly not between 10 p.m. and 6 a.m. There is a good chance that by the time the largest group of volunteers starts looking online, your volunteer job vacancy will have fallen down in the overview and will be seen less often or quickly.
The best day of the week: Tuesday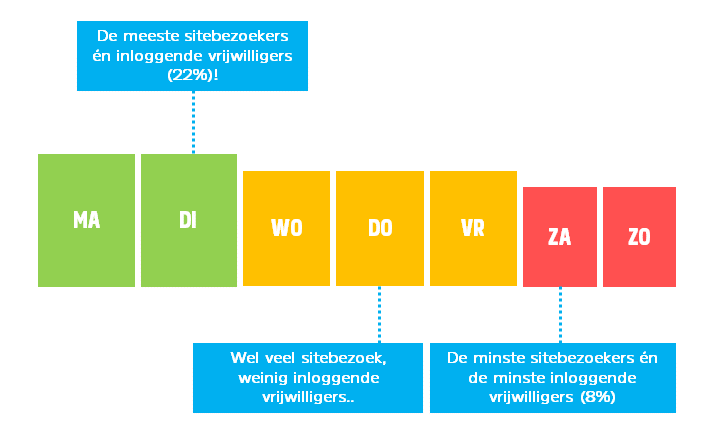 Just like you start the new year with a good resolution, apparently many people start the week with the intention to do something good for someone else. These are the best days in terms of volunteer activity (register and/or login):
Tuesday
Monday
Wednesday
Thursday Friday
Sunday
Saturday
Mondays and Tuesdays are clearly the most popular for volunteering. Both website visits and volunteer activity peak on these weekdays. Tuesday turns out to be slightly more action-oriented than Monday: although site visits are high on both days, the number of volunteers taking action that day is highest on Tuesday. More than 22% of the volunteers log in then, more than twice as much as on Saturday (9%)!
Preferably do not post your volunteer job vacancies on Saturdays . Then there are few site visitors and few active volunteers. Great, because then you can have a nice weekend yourself. Surprisingly, Thursday isn't a great day either. Because although the site visit is high (the highest after Monday and Tuesday) and quite a few volunteers register, there are few volunteers who log in on that day (comparable to Sunday: 12%).
The best month: autumn

Fall is clearly the best time of year to recruit new volunteers. The peak is in October: in this month there are the most website visits, new volunteers and the most volunteer activity. September has more website traffic than November, but November has more volunteer activity than September. An interpretation: Volunteers orientate on volunteering in September and October and then commit in October and November.
After the autumn, January is also an interesting month for recruiting volunteers. Not only is there orientation, there is actually registration. New Year's resolutions put into practice!
Vacations are clearly not a favorite time to look for or start volunteering. In particular, June, July and August are below average on all fronts: for example, 33% fewer volunteers sign up than in October. The spring break and spring break are also not prime periods for recruitment. The number of new volunteers who register is then low. However, March is a positive exception: possibly due to events such as NLdoet.
Does that mean you shouldn't do anything for those months? Certainly not, because up to 33% fewer volunteers in 2018 meant that almost 800 volunteers still signed up. Add to that the other >35,000 volunteers on NLvoorelkaar and there are always potential volunteers who can work for you!
We hope this data contributes to your recruitment plan to enthuse more volunteers to do something great for those who need it. Goodluck!